Last night,in this continuing saga of our island race, we saw how King Alfred, having been beaten by the Danish invaders, sought refuge in an extremely small television studio. It was there, among the cardboard rocks and rubber grass of his beloved Shepherds Bush, that Alfred came face to face for the first time with the common people of Wessex.
A terse, retarded folk, they eked out a poor living as character actors, pursuing their primitive belief that by slapping a bit of greasepaint on their cheeks and matting their wigs, they could pass for west Saxons of the ninth century, and that by speaking in the accents of Hardy's peasants and rolling their eyes, could bring authenticity to a script in which Danes screamed "I'll smash yer face in!" at one another, and English soldiers asked prisoners what their bleeding names were.
Alfred, on the other hand, anticipating the Oxford degree course in which he was later to play such a significant part, had clearly mugged up his set texts. At the moment of stress, he would mutter about men falling sticky with blood in the shield-wall, echoing the Anglo-Saxon voice with the sort of fidelity with which Charlton Heston handled Aramaic a thousand years earlier.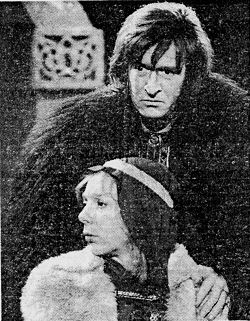 Alan Howard as Alfred and Anna Massey as Queen Aelswith.