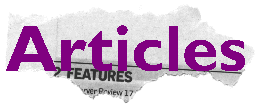 The new lion
Stratford-upon-Avon is an enclosed community like a monastery (not entirely like a monastery) in which actors and actresses get obsessed with their own performances, their own productions and think a lot about Shakespeare. The peace of the town, apart from the quacking ducks on the Avon, does aid the concentration wonderfully.

Next Tuesday will be Stratford's biggest night of the year. It can also be said in passing it will be the most important night of the British theatre year. Peter Brook, returning to the RSC theatre after an absence of seven years, unveils his new production of Antony and Cleopatra, with Alan Howard as Antony and Glenda Jackson as Cleopatra.

There seems to be a world interest in the event. At the dress rehearsal this week to which photographers had been bidden (and told they could not publish until next Wednesday morning) there were nearly 50 cameramen laden with hardware occupying the first two rows of the stalls. Lord Snowden was crowded into a corner.

After dying in the arms of Glenda Jackson, Alan Howard arrived for a gin-and-tonic at the end of an extra rehearsal. Miss Jackson arrived and I gave her a kiss and then wondered seriously whether I should have. You never know with Miss Jackson.

Howard is, as someone said the other day, the new lion of the English stage. In 1976 and 1977 he won awards as best actor of the year for his performances as Prince Hal, Henry V and Henry VI and Coriolanus. There is astonishing fire and strength in his acting. Irving Wardle in The Times called his voice "that trumpet which is the most thrilling sound at present to be heard on the English stage."
In conversation it is sometimes difficult to hear that voice. He is quiet and diffident and at times hesitant. Physically the most striking features are the burning brown eyes which are even more noticeable when he takes off his spectacles to be photographed. He was wearing blue denims and white leather boots. He smoked carefully through a cigarette holder.
He last worked with Brook seven years ago in the celebrated Midsummer Night's Dream (Oberon/Theseus). Working with Brook? I said he seemed fairly gentle. "Yes, he does have a gentle, sensitive side but there is plenty of the opposite in him as well. Basically, sensitivity increases the number of colours on the palette and this often creates a very complicated personality.
"He is a many-faceted creature."
Howard admitted he had never seen Antony and Cleopatra on the stage. "I saw Charlton Heston in that picture once.
"It is an amazing play and interesting to do alongside Coriolanus. They were the last two tragedies Shakespeare wrote and some say the hardest to pull off.
"T.S. Eliot said Hamlet might be the most 'interesting' of the tragedies but Coriolanus and Antony and Cleopatra were probably his highest artistic success."
The RSC is fielding very much an 'A' team in support of Jackson and Howard. Patrick Stewart is Enobarbus, Jonathan Pryce is Octavius Caesar, Paul Brooke Lepidus, Paola Dionisotti is Charmian, Marjorie Bland Octavia.
Miss Bland, currently having a highly successful Stratford season, is a shade acerbic about Mr Brook: "He encourages you to express your ideas and this gives you confidence but he's in control. He encourages the group but there's no doubt who the leader of the group is."
Sydney Edwards and Michael Owen
London Evening Standard, 6.10.78.