Midsomer Murders
Dark Autumn
Press Release:
Since it began, Midsomer Murders has gained a reputation for attracting the finest British actors and actresses to appear as the guilty and innocent residents.
Samantha Bond, Alan Howard, Celia Imrie, Rosemary Leach, Alec McCowan, Ian McNiece and John Woodvine are just some of the many guest stars in the new series............
Filmed on location in Buckinghamshire, Berkshire, the Chilterns and the Home Counties, Midsomer Murders (link to Midsomer Murders site) is one of the top ten shows on ITV.........It is also a big hit in the United States, where it has proved an English classic, and is sold to 120 countries worldwide.
John Nettles (DCI Tom Barnaby) notched up a personal achievement in the new run of Midsomer Murders mysteries with the guest appearance of his acting hero Alan Howard.
'Alan is my favourite actor of all time - because he's the best. He has an amazing ability to walk on stage in whatever part he's playing and bring a whole world on with him. You are not conscious of the fact that he's acting and I think he's the last of the great heroic actors.'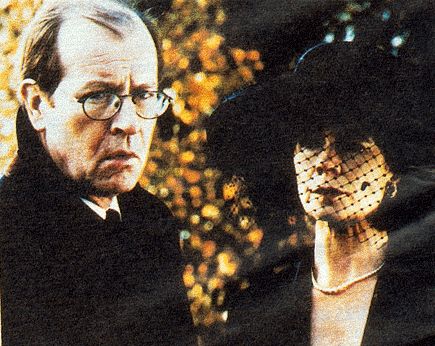 Alan Howard (Owen August).
Award-winning actor Alan Howard enjoyed creating the character of sinister Owen August:
'I think he is sad, mad and bad. I wanted him to be frightening, arrogant and wilful, like a loose cannon, and in a strange way I really enjoyed playing him.
August has a dysfunctional marriage and there is a weird secret in that relationship which is not explained. They are desperate and that leads to him behaving in an extreme and not attractive manner. In a strange way, I believe they love each other and who is to say what is right or wrong about them. They have some odd characteristics and he is a bit unusual to say the least, but I dare say he doesn't think so, and she probably doesn't either.
I think in those strained marriages, people come to an understanding. It is their modus operandi. Owen and Louise could have left each other years ago, so they must need each other. And the more you know about them as a couple, the more you realise they could be a formidable team in a very sinister way.'
Like his character, Alan Howard has enjoyed a successful career. Acclaimed for both his theatrical and screen roles, especially as a leading Shakespearean actor, he has awards stretching back to the 1960s. His many TV credits include, A Perfect Spy, No Bananas, Anna Lee and David Copperfield, and The Cook, The Thief, His Wife and Her Lover, Oxford Blues and Dakota Road are among his feature film appearances.
Daniel Casey:
'The guest stars are fantastic, you meet so many wonderful people doing this series. Sitting on the bus with the likes of Alan Howard, Richard Briers and Maggie Tysack is great....... As a young actor, it's like watching a master class in acting.............'
Celia Imrie describes the role of Louise August as a dream come true:
'I had the chance to play opposite Alan Howard who has been a hero of mine for years. He is so unusual and I loved playing his wife, which made it a dream part.....'