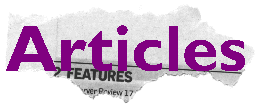 On with the motley
Nicholas Wapshott meets Alan Howard, returning to the stage
This Tuesday Alan Howard again endures first night nerves - his first rush of stomach-turning adrenalin for over two years. He will walk, bearded, into a grand, newly-democratised Tsarist railway carriage on the stage of The Mermaid ina second-hand role left vacant by Daniel Massey in Stephen Poliakoff's Breaking the Silence.

The last time Howard strode a London stage seems a different age. He completed a codpiece-breaking stint as both Richard II and Richard III then turned the house-lights off as he - and the RSC - left The Aldwych for ever. Since the company has been at The Barbican he has been elsewhere, though seldom acting.

He took C.P. Taylor's Good to Broadway and slipped on and off television, most recently in the BBC play The Holy Experiment as an eighteenth century Jesuit setting up a state within a state in Spanish South America. But the nearest he got to a British stage was sitting at a table in the shell of the barely-completed Almeida, reciting War Music about the Trojan wars with Christopher Logue.
Howard used to be addicted to performance. To have abandoned the theatre for so long is like Terry Wogan giving up broadcasting or Keith Richard kissing heroin goodbye. In 1975 he played a string of three Henrys at Stratford, then took them on tour to London, New York, the regions of Britain, then Europe. Two years later he added Coriolanus to his Henrys and the following year tagged on Cleopatra's Antony to take up the slack.
What was all this activity about? Why did he give it all up? And why is he back to his old tricks, returning to the company which has become to him like a treadmill to a marathon runner? At first he talks with his arms, trying to conjure the words, then comes the staccato, precisely-enunciated delivery, the snatched phrasing which has become his hallmark.
"A lot os it is circumstantial. You find yourself in a position where others say, 'Why don't you do this?' and you think, 'I don't know why I'm saying no to this. Is it because I cannot do it, or wouldn't it be rather more stimulating to go that much further?' Then you are in a bind partly of your own choosing. And when others are saying 'Why don't you?' you think 'Let's all go. Why don't we all go a little bit further, a little bit madder.'
"That amount of pressure has been very fruitful. One can enter doors, find images one didn't quite believe were there. But I have also thought that to stop is important as well. It is that thing about doing things as long as the beauty lasts."
But why do it? Why invite the overcommitment to projects that lead to constant work? "Well, I think I could be very lazy. Business does create a busy front, doesn't it? Just lately I haven't been as busy as I had been and I have quite enjoyed the sort of relaxation that has surrounded it. But the mania, I haven't missed that once. But I wouldn't mind if it happened again."
For all his compulsive working and his domination of the RSC output in the late Seventies, Alan Howard is not a star of the stage in the conventional sense. Sitting prominently in the middle of a wine bar, talking animatedly, waving his arms, he attracts no sneaked looks of recognition. For Howard is that unusual paradox, an introverted actor. To those who inner doubts are expressed by him on stage, he dominates the plays he is in. For others of a more flamboyant disposition, he irritates, almost offends, by his quiet presence.
As he puts it: "I am really not very good at taking over the floor. I am appalling at any of those occasions, like having to give a speech or a vote of thanks. Outgoing actors who find that sort of thing easy represent a great deal of the audience, but then so do I. When I get up onto the stage, 65% of the people will say: 'Oh God, not him.' But then there are quite a lot who associate with me and the way I do things."
His style of acting perfectly matches the company ethos of the subsidised theatre, where directors have become as important as the actors. Howard finds himself in a similar position to actors like Ian McKellen, Edward Petherbridge, Daniel Massey and others, whose function is to forgo the conventional selfishness of actors of a previous generation and concentrate on representing the notions of the company, the director and, above all, the authors of the plays.
In Howard's case, of course, this particularly means revealing Shakespearean roles which have previously been swamped by the overbearing personality of the actors given the lead roles. Shakespeare has thus become more authentic, more relevant, more understandable to a modern audience, as the old story takes precedence over a new career. While some actors have dismissed the young post-war stage directors as 'puppet-masters,' Howard and others are evidence of actors bringing a selfless dedication to their tasks, the puppets of no one.
Nicholas Wapshott
The Observer, 26.5.1985.