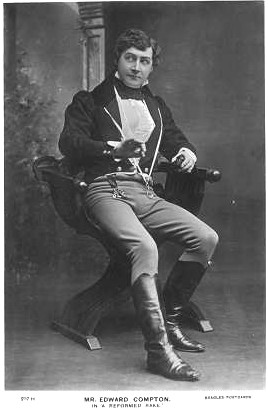 Edward Compton in 'The Reformed Rake'. Edward Compton (Mackenzie) married Virginia Bateman, youngest daughter of Hezekiah Linthicum Bateman.
In 1879/80, Edward Compton aged 25, was engaged to be married to the one of the leading actresses of the age, Adelaide Neilson, (1848-1880). On a trip to Paris, possibly to buy wedding clothes, Adelaide collapsed and died. Although she had already made a bequest of £2000 to him, she had wanted to change her will, leaving Edward all her money - about £40,000, but he had dissuaded her. She was brought back to England to be buried at Brompton Cemetery. She was 32. It has been suggested that the emotional trauma caused by this event was partly responsible for Edward Compton becoming almost completely bald by the age of 27.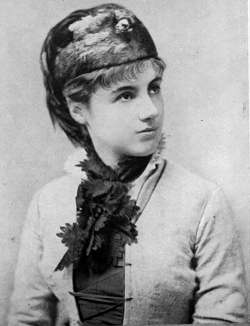 Recognising that there was no career for him now in anything but costume drama - where he could wear a wig - he decided to set up his own company to tour the provinces playing old English comedy, to which repertoire was soon added As You Like It, The Comedy of Errors and Twelfth Night.
In 1881, with the help of the £2000, Edward formed The Compton Comedy Company, or C.C.C. Here he employed Virginia Bateman as his leading lady, and later married her.