Gates of Gold News page.
Interview with Alan Howard in the Sunday Tribune, 12.5.02. Truth and Lies:
In depth article from The Dublin Review, Number 7, Summer 2002, McGuinness and the Boys, by Adrian Frazier. Sections 3 about the history of Edward's and Mac Liammóir, and 6 about the Orson Welles' Othello have been cut - though they are interesting - and the focus is on the play itself.
Comment from Hugh Leonard in the Irish Sunday Independent, 26.5.02.
Review: The Irish Evening Herald, 1.5.02. (Interesting to compare styles for different news audiences as it is written by Luke Clancy who also did the Times review. It is, therefore, on the same page!))
Interview with Alan Howard: The Irish Examiner, 5.5.02. In bed with the imagination.
Review: The Financial Times, 8.5.02
Review: The Daily Telegraph, 7.5.02
Review: The Irish Sunday Independent, 5.5.02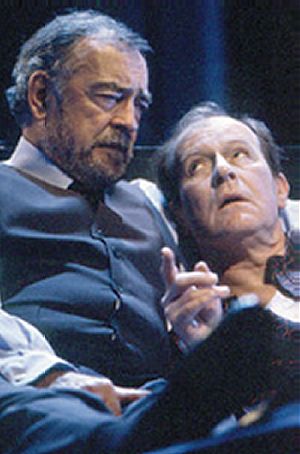 Richard Johnson and Alan Howard
Listen to an interview with Frank McGuinness on RTE 1
First pictures of the production! Richard Johnson as Conrad and Alan as Gabriel.
Advertisement appearing in the Irish press.
Irish Sunday Independent article on Frank McGuinness, 21.4.02.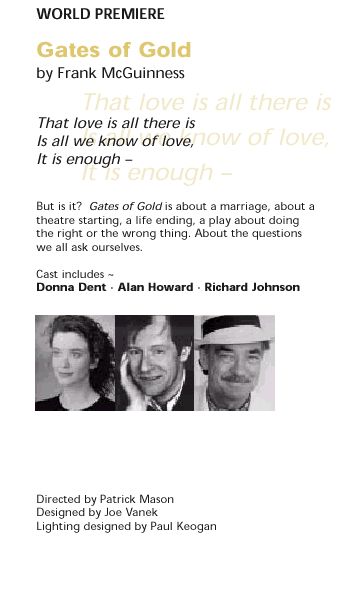 Rehearsals have started for Gates of Gold by Frank McGuinness. This world premiere opens at the Gate on Tuesday, April 30th, with low price previews from Thursday April 25th.
Gates of Gold is a work of fiction, inspired by the story of the founders of the Gate Theatre. It explores the nature of love and a unique partnership between two men, one a great actor now approaching the end of his life, and the other an eminent director. A passionate, witty and moving play, it offers a fascinating glimpse of two lives devoted to each other and to the theatre they founded.
The Gate is delighted to welcome Richard Johnson and Alan Howard, both making their first appearances with the theatre. Alan Howard has acted in many RSC productions including Henry VI and Coriolanus, winning the Olivier Award for Best Actor for both. Other stage appearances include Waiting for Godot and the title role in King Lear, both of which were directed by Peter Hall at the Old Vic. His most recent stage appearance was as Schoning in the hugely successful production of Lulu at the Almeida and his most recent film was The Lord of the Rings: The Fellowship of the Ring in which he was the voice of the Ring.
Richard Johnson has had a long established and distinguished career as an actor of stage and screen, as well as a writer and producer. He made his professional debut at the age of sixteen in Sir John Gielgud's theatre company. Richard went on to become a Founder Member and Associate Artist of the RSC, he also founded United British Artists in conjunction with Peter Shaw and Dame Maggie Smith. His most recent stage appearance was as Heinrich Mann in the Donmar production of Tales From Hollywood by Christopher Hampton. On film he appeared in Happy Days for the Beckett on Film project, along with Rosaleen Linehan who makes a welcome return to the Gate for this production - she was last seen in Eugene O'Neill's A Long Day's Journey into Night.
Also returning is Donna Dent, who played the title role in last year's Thérèse Raquin.
Gates of Gold also stars James Kennedy, making his Gate debut.
Alan Howard plays Gabriel (a great actor) and Richard Johnson plays Conrad (an eminent director).
Gates of Gold is directed by Patrick Mason with set and costume design by Joe Vanek and lighting by Paul Keogan.